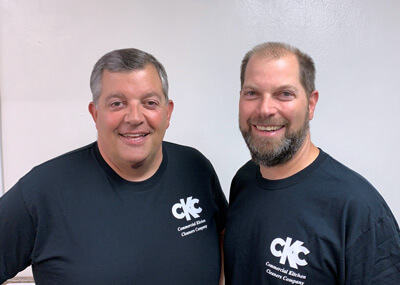 Commercial Kitchen Cleaners (CKC) is a kitchen hood and equipment cleaning company founded in 1976 by Lionel Smith to serve the Washington DC and surrounding areas. Lionel was committed to performing quality service and his persistence led him and other like-minded industry contractors to come together and found the International Kitchen Exhaust Cleaners Association (IKECA) in 1989. Lionel was an advocate for change in the industry and for the enforcement of existing laws and standards. This was to become IKECA's role in the industry, and for his contributions they made him a lifetime member in 2007. Lionel passed away in 2008 but is remembered fondly by friends and customers.
In 1998, friends and business associates of Lionel took over the company when his health was failing and continued to keep the company's commitment to quality service.
It's current owners since 2015, Chuck Mongiello and Matt Mongiello of Mongiello Brothers LLC, bring their vast industry knowledge and experience to continue CKC's tradition of family business service and professionalism.